Citrus Juice Processing Line
Different from ordinary citrus juice processing line, this special citrus juice processing line adds the function of citrus oil extracting, and this step is not affect the following processing of citrus juice. Citrus essential oil is an important food additives, and also widely applicable in chemical industry, pharmaceutical industry and etc.
The orange juice processing machine is the main equipment in this production line which is responsible for extracting the pulp and juice from the fruits.
We can design and manufacture whole line of citrus juice production line according to your requirement. The capacity of citrus juice processing line can be 5T-15T/H. Products types can be of 1 or 2 or more kinds. Just like making orange juice, lemon juice, grapefruit juice, lime juice and pomelo juice, etc.
| | | | | |
| --- | --- | --- | --- | --- |
| | | | | |
| Orange Juice | Lemon Juice | Grapefruit Juice | Lime Juice | Pomelo Juice |
The processing line is mainly composed of the following phases

1. Fruit elevator 2. Fruit sorter 3. Brush and spray cleaning machine 4. Fruit bubble washing machine 5. Fruit elevator 6. Citrus fruits peel essential oil extractor 7. Juice separator 8. Citrus pulper 9. Storage tank 10. Peeling and squeezing machine 11. Sieving machine 12. Sieving machine Ⅱ 13. Sieving machine Ⅲ 14. Sieving machine Ⅳ 15. Pump Ⅰ 16. PumpⅡ 17. Pump Ⅲ
The flowchart is the processing line of the citrus juice. The process of orange juice production is first orange was washed by using washing machine, and then the bad ones are picked out, to make sure that the fruits to be processed are all of good quality. Those good ones are extracted and pulped.
Fruit washing --- Fruit elevator---Fruit sorter--- Brush type citrus cleaning--- Fruit bubble washing--- Citrus oil extracting(Separate oil from water)---Citrus peeling and squeezing--- Fruit pulping ---Storage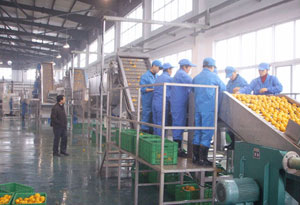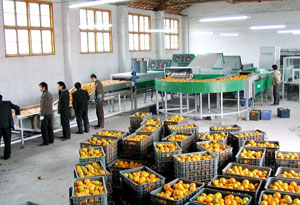 Main Equipment of The Citrus Juice Concentrate
| No. | Equipment name | Picture | Application |
| --- | --- | --- | --- |
| 1 | Elevator | | Be used in the low or high level lifting and conveying of fruit and vegetables. |
| 2 | Rolling rail fruit sorting machine | | Sorting of citrus fruit by manual. |
| 3 | Brush and spray cleaning machine | | Removing of extraneous matters and eliminating the stickiness contained on most of the citrus peels. |
| 4 | Fruit bubble washing machine | | Washing fresh vegetables and fruits. |
| 5 | Citrus fruits peel essential oil extractor | | Special equipment for extracting essential oil from citrus's peel. |
| 6 | Peeling and squeezing machine | | Remove the peel out of citrus, and extract the juice on the first time. |
| 7 | Sieving machine Ⅰ | | Separating oil from water. |
| 8 | Citrus pulper | | Destoning and pulping of the citrus. |